Unify all core functions in an end-to-end business suite.
Manage your fast-growing, mid-market business with a single cloud ERP solution to scale and compete without the complexity and cost.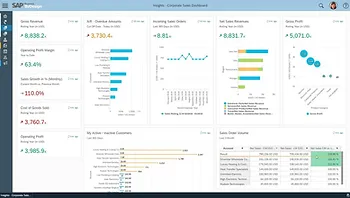 What is SAP Business ByDesign?
SAP Business ByDesign delivers pre-built processes for everything from finance and sales to product management and purchasing on a single, unified solution. Connect every function across your company with proven best practices and in-depth analytics.
Intelligent cloud ERP: Streamlined end-to-end processes.
Instant value: Enables agility to quickly adapt to new opportunities.
Business impact: Real-time analytics included to help improve profits and efficiency.
Help ensure a successful implementation by tapping into the expertise and experience that
SAP has acquired after decades of standardising processes.
Why Vestrics?
As a certified SAP® Gold Partner, Vestrics provides complete end-to-end innovative business services to small and medium enterprises.
We have handled more than 150 SAP Business One installations for SMEs.
OUR VISION
Recognition of Vestrics as one of the world's best business solutions provider by providing innovative products, value-added services, and hassle-free support.
OUR MISSION
Understanding the client's key drivers for business success in delivering a successful project, client satisfaction, and repeat business.
Leading SAP Business One Gold Partner in India
Cloud Hosting With Industry Leaders
4000+ SAP Business One Users