Rise with SAP and Take the Lead in Your Industry with
SAP S/4HANA Cloud

The next-generation integrated and intelligent ERP system, SAP S/4HANA Cloud, is a SaaS solution that uses the SAP Fiori user interface, a contemporary architecture, and advanced embedded analytics, machine learning, and AI. With real-time operations, dynamic planning, and analysis, as well as fast insight from a single source of truth, SAP S4HANA Cloud assists enterprises in digitally transforming their business. Additionally, SAP S/4HANA Cloud offers a two-tier landscape architecture with predefined key business operations that makes it simple to connect the networks of the corporate headquarters and several subsidiaries.
Own the Unknown: SAP S/4HANA Cloud , the Intelligent ERP
SAP S/4HANA Cloud provides the insight to tame instability, seize chances and master the moment. The single source of truth to reason clearly. The conviction to embrace tomorrow with confidence. The power to rise above customer expectations. SAP S/4HANA Cloud is a vehicle that transcends borders, powers intelligent decisions at every turn, and unlocks efficiency across all dimensions.
Start Your Journey to an Intelligent ERP in the Cloud
Explore best-in-class
SAP S/4HANA Cloud capabilities
Asset Management
Asset Management
Achieve operational excellence by planning, scheduling, and executing asset maintenance activities with integrated processes.
Finance
Finance
Simplify accounting and financial close processes and improve treasury and financial risk management processes.
Manufacturing
Manufacturing
Improve production planning, support complex assembly processes, and enable seamless manufacturing engineering.
R&D & Engineering
R&D & Engineering
Improve project control and development, manage enterprise projects effectively, and streamline product lifecycle management.
Sales
Sales
Maximize revenue with order and contact management, drive sales performance, and support your sales force and sales managers.
Service
Service
Deliver exceptional, personalized, and reliable service with holistic analytics and integrated service management.
Sourcing & Procurement
Sourcing & Procurement
Streamline operational purchasing, automate sourcing and contract management, and centralize procurement processes.
Supply Chain
Supply Chain
Provide more accurate commitment dates, integrate transportation management, and streamline warehouse management.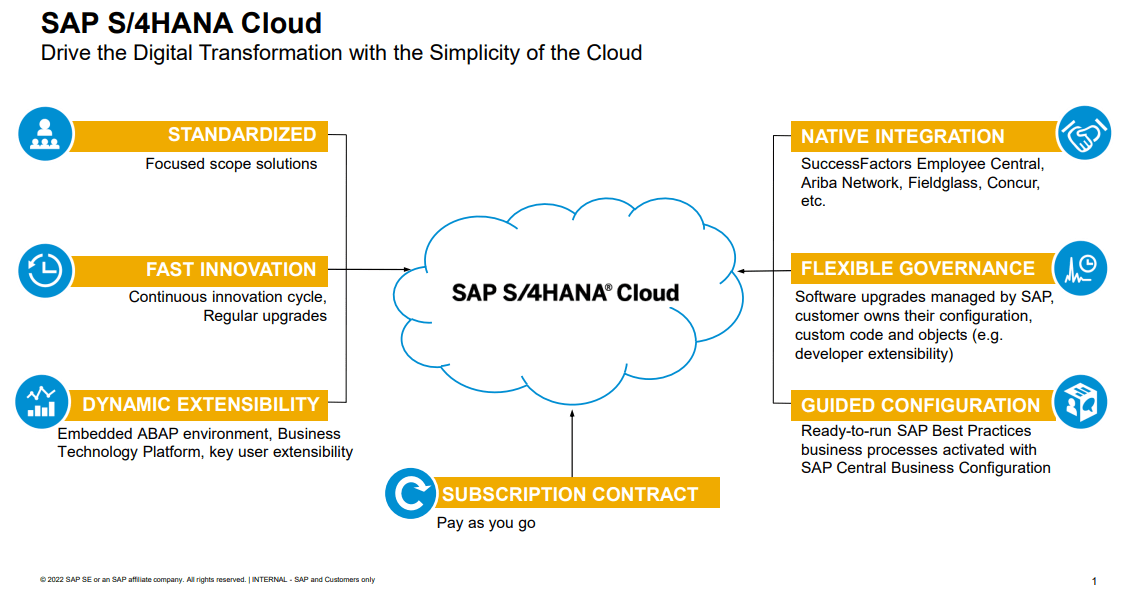 Which SAP S/4HANA Cloud product is right for you?
Private Edition
SAP S/4HANA Cloud, private edition provides the full SAP S/4HANA functionality while offering the highest flexibility and extensibility options running on a hyperscaler infrastructure.
Public Edition
SAP S/4HANA Cloud, public edition is a ready-to-run cloud ERP that delivers the latest industry best practices and continuous
innovation.
SAP S/4HANA Cloud is designed to meet the diverse and complex business needs of Small and Medium Sized Businesses. Therefore, migrating your existing ERP system to SAP S/4HANA Cloud is and will be an intelligent decision for your company. We are a globally renowned and reputed SAP Gold Partner. Our holistic and systematic approach allows us to provide our corporate customers with excellent technical support from sales engagement to after-sales and operational stages. Regardless of the business model, modern enterprises can now leverage SAP S/4 HANA cloud solutions to achieve their business goals. Mitigate your ECC-to-S/4HANA risks by choosing Vestrics as your partner in the smooth transition from ECC to SAP S/4HANA Cloud.