Application Management Services
Application Management Services
Every ERP system, including the best implemented and efficient ones, generates many hurdles and obstacles for users' daily work.
Is there a way we can ensure they are cost-effective and solved in a quick turnaround time?
Yes. The solution is straightforward. We need to have an external support line for SAP users where support services are available whenever they need them.
SAP Application Management (exclusive support for SAP users) is a remote assistance service for SAP users in resolving the problems that occur during continuing operations of a system.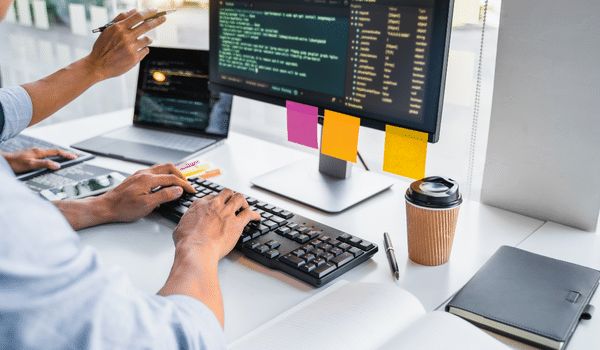 The SAP Maintenance Support and SAP Application Management complement one another, thereby making up the second support line. Application Management creates a single point for service requests of the customer and ensures:
An immediate resolution for concerns that are not applicable for support by an SAP software provider under the SAP Maintenance Contract (this constitutes many requests).
Forwarding of other problems to SAP support.
There is nothing more annoying in daily activities than the problems and failures of a fundamental tool that makes simple tasks take a disproportionate amount of time, ruining the day's whole agenda. And this is an optimistic version. A much more severe outcome of an SAP system's failure is the inability to execute basic business transactions, like sales, receipt in a warehouse, posting, and payroll calculation. The method of restoring SAP functions' availability and the time you will take to get it done determine how effectively the SAP system will support your company. Soon, SAP system problems will appear in every organization, regardless of its size.
Therefore, you need to be prepared to be aware of the usual problems and how and whom to reach out for help. Organizations usually choose one of these three ways:
Having a dedicated support team within the organization (also called internal support).
Outsourcing.
A combination of both.
Every customer needs to fill gaps in their organizations and expect the service provider to adapt the scope of cooperation with the changing realities. We at Vestrics are distinguished in our AMS approach to partners. Cooperation models (a range of support activities, availability, guaranteed turnaround time, a billing model) are customized based on their expectations and needs. For every customer, AMS is a dedicated package of services customized according to their needs. The scope of activities usually available as part of our application management includes:
Answering questions from critical users.
Restoring the SAP system functionality by responding to issues reported.
Diagnosis, analysis, and elimination of reasons for problems.
Assistance in correcting errors in data caused by human error or system malfunctions.
Proactive monitoring of the system and process.
Adjustment of the SAP system following SAP technical notes.
Verifying the impact on SAP systems due to new business requirements.
Blueprinting and specification of system changes due to new business or technical requirements.
Implementation of SAP system changes that are approved.
Testing of SAP system changes, including regression tests.
Application Management Services are provided to customers by consultants in six dedicated teams corresponding to significant areas of the SAP system:
Finance and Controlling
Human Resources
Sales
Distribution and CRM
Materials Management and Warehouse Management
Production Planning and Quality Management
In contrast to implementation consultants, support consultants' work is focused on remote support for customers, solving current problems, and handling service requests. Depending on a particular company's requirements, we can provide support when all support levels have failed. We also get involved in solving the problems, if necessary.
Another advantage of using our services is, you will have easy access to the entire range of SAP/IT outsourcing services offered by Vestrics (hosting, collocation, SAP/IT administration, system, and network monitoring, a backup data center). Having a single partner for all kinds of services will help system maintenance because the entire responsibility is on the partner. It will provide access to a list of competencies, handle SLAs more efficiently, and cost consolidation of the services.
A dedicated team at Vestrics integrates all these services and ensures the quality and continuous handling of all maintenance and outsourcing agreements. Vestrics Support operates by the standards and best practices applied in support organizations. Information Security Management System compliant with ISO 27001 and the IT Service Management System compliant with ISO 20000 is the most important.
If you are using a wide range of support services, you can report an issue in a single place (Single Point of Contact – a support application). Then, the question is forwarded and resolved, regardless of the SAP area that it corresponds to.
As part of AMS, there are four priority levels: Critical, High, Medium, and Low. We also provide guaranteed SLA (Service Level Agreement) parameters for failures in SAP production systems. Definitions of priorities are agreed upon each time and are adapted to the expectations of our customers. Communication with customers and handling service requests is coordinated by our team responsible for sending customer requests to relevant specialists' groups. In this way, we implement the rule of a single point of contact (SPOC). We record customer requests and process them in a dedicated application that is available without a cost during the period of cooperation. Due to this, customers can be confident that their problem is handled by the relevant specialists regardless of its type, time, and reporting method. We will solve it following the contract and SLA provisions (including the provision on response times). The service application allows you to validate handling requests when they are closed by service consultants. As a result, it possible to track the level of satisfaction with the services provided and take corrective actions if necessary.
As part of our application management, we also provide a dedicated Service Manager for every customer. They supervise the contract implementation, being responsible for:
Evaluating the performance of the application management service during cooperation.
Organization of meetings or periodic teleconferences with customers.
Responding to irregularities.
Preparation of monthly reports that summarize the workload related to handling requests in a given month is the basis for billing services.
After deciding to start cooperation with Vestrics, the next step is the knowledge transfer between your organization and Vestrics. This phase is of crucial importance in the process of taking over the application management of SAP systems. Based on many years of experience, Vestrics has developed its methodology of knowledge transfer that consists of three stages:
Start. A detailed plan and schedule are created. We will designate responsible consultants and establish structures.
Preparation. The consultants make themselves familiar with all kinds of SAP system documentation received. The documentation includes interfaces, technical specifications, extensions, processes. The lack of complete documentation does not prevent support from being provided.
Gaining knowledge of SAP systems. In this stage where you get acquainted with the configuration of the SAP systems that we will support. At this stage, the following issues are discussed.
The functional scope of SAP systems, with emphasis on custom solutions.
Extensions.
Interfaces.
Differences between the configuration of a system and the documentation.
Standards and procedures related to the development and maintenance of SAP systems.
The entire history of support provided so far, with a particular focus on repetitive problems.
This stage ends with a knowledge transfer report for individual or all SAP system areas that we will support.
Preparation for the actual support of SAP systems, first of all, obtaining access to all systems and organizing the request handling procedure. The described approach to knowledge transfer is a kind of template that we adapt to specific customer needs.
Vestrics has four standard/baseline pricing models, the most popular of which is a monthly fee with a pool of hours included. The advantages of this model are a wide range of maintenance activities billed by hours in the pool, SLA variants, pre-determined workload to be used.

Why the SAP Application Management With Vestrics?
Continuous availability of the support service.
Unrestricted access to expertise, no technical or organizational constraints on the scope or volume of support.
Flexibility in adjusting support to changing needs and requirements (additional people, additional areas, minor development work).
No problems with maintaining an internal support organization (elimination of staffing and organizational issues).