Manage all your HR needs
digitally with Enspire HR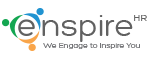 Enspire HR is a global Human Resource Management Solution that offers full-blown HR features bringing best practices from around the world with extraordinary user experience. Enspire HR is a state-of-the-art Human Resource Management Information System. You can use this flexible system to efficiently manage your organization's HR needs, even as the business grows and requirement changes. It is intended to help to automate the activities of the Personnel & Administration departments. Enspire HR, which consists of several modules, effectively handles all aspects of an organization's personnel management and enhances the business's competitiveness in many ways. The system also supports the statutory requirements of multiple countries.
Go digital with Enspire HR, with advantages such as
Manage essential employee records and user privileges based on organization structure.
Manage leave and attendance through self-service portals.
Tune timesheets to automate payroll management.
Enable centralized services to all employees through online travel desk.
Allows quick and transparent performance management reviews.
Helps Learning & Development schedules in the organization with the training management system.
Integrates seamlessly with SAP Business One.